We only have one goat expecting babies this year.
There will be an extremely limited number of kids available.
Please e-mail us at cweber5@rochester.rr.com
if you would like to be put on our waiting list.
Did you miss out on getting a real baby goat this year?
Maybe you would like to purchase a pair of head-butting baby goat silhouettes!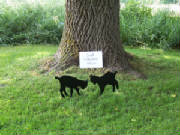 Click on the following link for further details.