Welcome to WeberWood Acres!
We are a small hobby farm located in Western New York, between Rochester and Buffalo. We began raising registered Nigerian Dwarf goats when we became "empty nesters" a few years ago. These little goats with their big hearts quickly became our "children" now that our real kids have "flown the coop". These miniature goats make fantastic pets, 4-H projects, and MILKERS. They are the perfect solution for the small family that would be overwhelmed with the amount of milk that standard breed goats produce. Nigerian Dwarf goat milk is very high in butterfat, and makes delicious yogurt and fudge!
Our goats are "spoiled rotten pets", but do come from show quality lines. We don't show them because we don't have the time to devote to it, and also because we are concerned about exposing our herd to potential disease. We are diligent about regularly testing for CAE and Johnes. The herd is regularly vaccinated and dewormed. All our goats are registered with both the American Goat Society and the Nigerian Dwarf Goat Association.
In 2005 we began a small scale breeding program. We kept the first kids that were born here, and began selling kids in 2007.
UPDATE - We only have one goat expecting babies this year. There will be an extremely limited number of kids available.
Please e-mail us at cweber5@rochester.rr.com if you would like to be placed on our waiting list.
Did you miss out on getting a real baby goat this year? Maybe you would like to purchase a pair of head-butting baby goat silhouettes! Go to the Goat Silhouettes page for further details.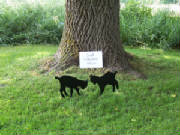 We love to share our passion for Nigerian Dwarf goats with others. Please feel free to contact us if you have any questions, or would just like to "talk goat". You may also sign our guestbook if you would like to make any comments on our site.
Thanks for your interest, and we hope you enjoy hanging out with us at WeberWood Acres!